TESTIMONIALS
WHAT OUR CLIENTS SAY ABOUT TALL & SMALL
KAROLINE + DIEDRA
TIED THE KNOT: September 16th, 2017
VENUE: Private Residence, Montauk, NY
OUR FAVORITE PART: The intimate ceremony on the beach in the round
What They Said: We have nothing but amazing things to say about the entire process with the T&S team. We were getting married at a beach house that had multiple complexities and logistical constraints including 20 vendors, 2 cocktail hours, ceremony on the beach and reception in the backyard, and an after hours lounge back at the beach - top it off with 80 stairs between the house and the beach! T&S handled it all with ease.
Once we chose the vendors, T&S managed all communication with them including contracts, updating any new information and delivery info. They are extremely organized and know when to negotiate. We had monthly, then weekly calls leading up to the day, and a detailed timeline that they developed based on our conversations. We and they had deliverables that T&S would track. This was critical for us, and kept us sane - this process alone was worth the cost. They have tons of experience, so they know who to recommend if you decide 8 weeks before your wedding that you want a videographer.
They kept on track throughout the day as we were getting ready and through our photography sessions. People say the devil is in the details well they are angels with the details everything from placing our shawls and shoes by our seats after the ceremony waiting for us.We trusted this team with our day and they did not disappoint. By the end of the experience we considered them, our fairy god sisters.
Image: Alexander Kusak
GEORGINA + NICK
TIED THE KNOT: July 15th 2018
VENUE: Prospect Park Boat House
OUR FAVORITE PART: The Sunset First Dance on the Dock
What they had to say about T&S: My husband and I moved up our wedding significantly due to personal circumstances, which left us with just over one month to plan our wedding from start to finish. After our initial phone conversation with Elodie, we knew that we wanted to move forward with the Tall & Small team. Elodie was cheerful and had such a calming presence despite our stressful situation. We immediately connected with her and had no hesitations about choosing T&S despite our conversations with other highly recommended planners. The team made the impossible happen; our wedding day was even better than what we could have hoped for, even if had a year to plan! With less than a month to go after signing our contract, Elodie and her team seamlessly pulled off our last minute wedding at the Prospect Park Boathouse, with over 100 guests in attendance. She made sure that we didn't have to make any sacrifices on our big day, despite our time constraints. All of our guests couldn't believe that we pulled it off in such little time – that is how thoughtful and detail oriented the Tall & Small team is!
Elodie accommodated our busy work schedules by always agreeing to meet or speak later in the evening, and always promptly replied to any emails, phone calls, or texts. We didn't have to lift a finger on our wedding day – she even made sure we were brought hors d'oeuvres and champagne while we took photos during cocktail hour, since we didn't do a first look. Given our timeline and work schedules, we desperately needed help managing vendors, contracts, timelines, and more. When Elodie stepped in, we had already chosen several vendors, but she was able to seamlessly take over all communication. She also provided great advice on vendors we hadn't yet chosen, and was critical in working out complex details with our band and sound system. She was also able to help with creative ideas, such as our escort cards (which we hadn't foreseen as being complicated, but actually needed more creative input since the event was outdoors). Our venue also only had a 2-hour load in window for vendors, yet the T&S team was able to make sure that everything was exactly how we envisioned, despite the very short set up time that was allowed before guest arrival.
Overall, the T&S team brought order and direction to the planning and made sure that everything went smoothly before and on the actual wedding day. Elodie was extremely organized in every step of the planning and always made sure to keep us on track with all tasks. No matter how stressed my husband and I were at times, Elodie always reassured us that everything would come together perfectly, which it did. She thought of details that never even crossed our minds. We would have been lost without the T&S team and highly recommend them!
Image: Sasha B Photos
RACHEL + JOSH
TIED THE KNOT: August 18th 2018
VENUE: Palm House at Brooklyn Botanic Gardens
Our Favorite Part: The Stool for the Kiss!
What they Said: My wedding day was the happiest day of my life, and I don't think I could say the same without Elodie's guidance on site. Elodie swooped in and helped to hold all the details together, including coordinating with vendors and creating a more comprehensive day of timeline with a ceremony rehearsal before the guests arrived. It felt great to start off the wedding day with a solid plan of action in mind and total confidence in Elodie and her on-site assistant Tess to keep everyone organized, focused, and on track. Having that structure allowed me to enjoy the experience moment to moment in a way that would have been unimaginable had I not enlisted help from Tall & Small Events. I cannot thank them enough!!
Image: Kristy May Photography
HEEJIN + BRYAN
TIED THE KNOT: April 30th, 2017
VENUE: The Foundry, Long Island City, NY
OUR FAVORITE PART: Heejin's Dad's Janchi-Guksu Noodle Toast
What they had to say about T&S: Where to even start! Elodie and Carina are absolute superstars. The minute we first spoke with Elodie we knew she was THE ONE. She is so friendly, professional, organized, and so so SO good at her job. Preparing for the wedding, I'd heard the advice that, since it's almost inevitable that SOMETHING would go wrong on the day-of, I should try and keep in mind the big picture and not let little things that go wrong bother me too much. Well, this was 100% inapplicable on our wedding day because Elodie and Carina made sure that NOTHING, however small, went wrong. Everything was executed perfectly, all thanks to them. They anticipated and attended to our every need and want, and a thousand other things that didn't even occur to us. Not only are they extremely efficient and organized, Elodie and Carina truly care and go the extra mile-- for example, once the dance music started blaring, Elodie immediately went over to my grandmother (who was sitting up front, near the music and dancefloor) to make sure she could move somewhere where she would be more comfortable. We absolutely loved working with Elodie and Carina and whole-heartedly recommend Tall & Small Events. They will get the job done (and then some!) and keep you smiling through the process.
Image: City Love Photography
BEN + BRIDGET
TIED THE KNOT: June 19th, 2016
VENUE: The Foundry, Long Island City, NY
OUR FAVORITE PART: Bribing Flower Kids with Candy to Walk Down the Aisle
Tall & Small Events were amazing!! I don't know what we would have done without them. We started working with them about a month before the wedding and they made everything leading up to the big day easy and stress free. They established a timeline, coordinated details big and small with all our vendors, and even took care of some last minute details the week before the wedding. On the day of the wedding, they really went above and beyond. There was no stress about anything because we knew that Tall and Small were there and had already planned for everything. They accomplished all this while remaining cool and relaxed throughout the whole thing. Really amazing! We highly recommend!
Image: Andrea Fischman Photography
KRISTINA + ROY
TIED THE KNOT: October 17th, 2015
VENUE: Marble Cemetery, New York, NY and Chinatown, NY
OUR FAVORITE PART: Unconventional Ceremony Setting
You guys absolutely rocked it! We couldn't have been happier. Thanks so much for making it all feel like a walk in the park.
Image: City Love Photography
ESTEE + ANDREW
TIED THE KNOT: June 12th, 2015
VENUE: Wainwright House, Rye, NY
OUR FAVORITE PART: The Gender-Reveal Wedding Cake!
Tall & Small Events helped make our wedding day not only special but stress-fee and organized. From setting up the venue just as we had envisioned, to helping time the bridal party getting ready, to making sure we got to sit down and eat some food during dinner, they did it all. Their personalities are warm and genuine and make you feel comfortable from the minute you meet them. We would recommend Tall & Small Events to anyone who needs extra help planning their wedding or just want to feel more at ease on the day of.
Check out the Story of their Gender Reveal Wedding Cake!
Image: Tory Williams Photography
SUNNY + SCOTT
TIED THE KNOT: September 30th 2018
VENUE: Blue Hill at Stone Barns
OUR FAVORITE PART: The Couple both choosing to hyphenate their last names
What they had to say about T&S: Working with Elodie and the entire team at Tall & Small Events was an absolute pleasure. From start to finish the entire team worked fastidiously to ensure every aspect of our wedding went smoothly and without error. From the beginning, Elodie quickly understood what we wanted for our special day and helped us develop the vision further. She asked us questions we weren't even thinking of, she was very easy to work with, helpful and thorough – we immediately knew we could trust her! Throughout the entire process, Elodie listened to our concerns and came up with unique solutions to our problems. Elodie worked seamlessly across the macro to the micro – understanding the big picture and helping realize all of the small components and details necessary to bring that vision to life.
On the day of the wedding, we were able to fully enjoy being present at our special day knowing that we were in great hands with Elodie and the team. Our entire day could not have been more perfect and that is largely thanks to the thoughtful care and planning from Tall & Small. Elodie knew exactly what was happening, and what needed to happen next. Everything ran on time and we were able to enjoy ourselves with our friends and family without being anxious or worried. We could not thank Elodie and the entire team enough for making our dream wedding a reality! We would not hesitate to recommend Tall & Small for any events, big or small.
Image:Les Loups
MARIETTA + DAN
TIED THE KNOT: November 17th 2018
My partner and I were so grateful to have the opportunity to work with Elodie at Tall and Small Events while planning our wedding. We hired Elodie for consultation meetings throughout our planning process and could not be happier with the results. Elodie provided thoughtful feedback and was a great sounding board for ideas. Her keen insights and background as a wedding planner enabled her to anticipate scheduling and logistical issues that we would have never considered. Elodie was also able to help us plan out timelines and help clarify questions to ask vendors well in advance of our big day so that we were not bogged down by stress and details in the weeks before our wedding. I would highly recommend Elodie as a planner and consultant for weddings and other large-scale events. Her attitude and pleasant, enthusiastic demeanor made the planning process fun and something I looked forward to rather than a chore.
Image: Shannon Collins
KAREN + DAVE
TIED THE KNOT: November 11th 2018
VENUE: PRIVATE RESIDENCE, BROOKLYN
Tall & Small Events were an absolute pleasure to work with and created a perfect wedding party for us. We had a particularly challenging set of circumstances to work with, but Elodie was constantly on top of everything, from providing creative and thoughtful recommendations for vendors to picking out designs to managing every last detail. She turned a collection of random ideas into a seamless and lovely event that was above and beyond anything that we could have hoped for. Could not possibly recommend Tall & Small more highly.
Image: Kyo Morishima
ERIN + NOAH
TIED THE KNOT: September 15th 2018
OUR FAVORITE PART: Cheese Tower instead of Wedding Cake!
What they had to say about T&S: After speaking to around 5 different planners via email and on the phone there was no question we would move forward with Elodie. She was the only person who had that winning combination of being commanding but calm. Elodie managed to wrangle all vendors in a professional, non-bossy way. She got everyone on the same page, and made sure we didn't have to worry about a thing. There were so many details that hadn't even occurred to us and she found a way of bringing them to our attention without stressing us out. She was totally onboard with helping us articulate and execute our plans in a way we couldn't have done on our own. She really respected how much we wanted our day to feel like "us" and it was a relief to work with someone who understood us in this way. Feeling like we didn't have to keep reiterating our whole philosophy about the big day was very refreshing! On the wedding day everything went perfectly. She knew the balance between when to ask our opinion and when to make executive decisions on her own (frankly, such a key characteristic). Elodie's on-site assistant was outstanding; she perfectly executed things exactly as we had discussed with Elodie. She even went above and beyond by beautifully assembling and styling our cheese wheel cake that we ordered at the last minute. And our guests loved Elodie too! One of our parents even sent her an additional tip the following day because they were so appreciative and impressed by her. What we're trying to say is Tall & Small events is amazing. We can't imagine making it all happen without them and we truly can't recommend them enough.
Image: Aya Tiffany Sato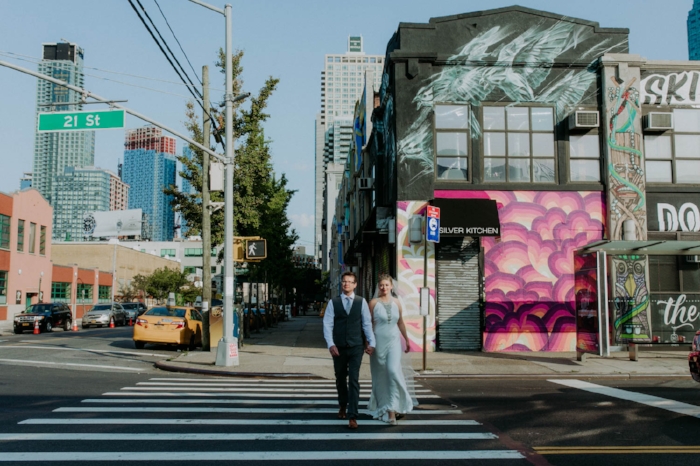 LAUREN + WILL
TIED THE KNOT: August 26th, 2017
VENUE: The Foundry, Long Island City, NY
OUR FAVORITE PART: The groom's surprise gift to the bride (check out @harveywalnuttheweiner!)
What they had to say about T&S: The girls at Tall & Small were highly recommended by our caterer's Bonbite and we are so glad that they did. We couldn't have imagined our day without the help of Elodie and Carina. From the moment we spoke with Elodie, we knew they were the right fit. In the run up to the day Elodie was so helpful with tips, hints, tricks and recommendations for other vendors. We hired quite a few vendors on her recommendation – all of which we were beyond happy with. They really have a little black book of some of the best in NY.
My mom and I decided that we needed a planner to help with the month of planning as I live abroad in the UK and I couldn't ask my mom and dad to do any more than they already did so knew I needed a trusted pair of hands – which I found in Tall & Small Events. They were so great working with me, my now husband and mom to make sure we were all on the same page and happy.
So there is no other way to put it then Elodie and Carina kept us totally on track in the run up to the wedding making sure that we were on it and got us to think about things we didn't even know we needed to think about! The girls were so great at calls and meetings in the lead up, ensuring that they clearly knew every facet of our vision to ensure they could bring it to life and let me tell you, they did! How people plan their own weddings and deal with all the logistics and still enjoy their wedding, I will never know! If there is one thing you do for your big day, it should be to hire Elodie & Carina – the wedding wizards!
Image: Shannon for Amber Gress Photography
ANDREA + MARK
TIED THE KNOT: June 30th, 2017
VENUE: The New York Botanical Gardens, Bronx NY
OUR FAVORITE PART: Couple's surprise Rock Performance
What they Said: Working with Tall and Small Events was such an incredible experience. As a professional in the wedding industry I knew that we needed the best possible team for my wedding at the New York Botanical Garden in the Bronx. Elodie and Carina handled all of the details for my wedding about 6-8 weeks leading up to our date which also included countless phone calls with my mother and I remotely as my mother and I live in two separate states.
As a bride, it's so important to have a team keeping you on track and having all of your ducks in a row on the big day and you can count on Tall and Small to cater to any size wedding or event. They kept our wedding both running smoothly and kept everyone happy the entire day. Our wedding happened to be on the larger size but I know they give the same attention to any size event. I had one small, let's call it a "bride" moment where I realized I needed a turkey sandwich and it looked like they we were all out in the bridal suite. Elodie actually went to the hotel where my husband and the guys were and grabbed the last turkey sandwich for me from their stash! I was so happy and for some reason thought I needed a turkey sandwich at that moment and she did it all with a big smile:-)
I also loved seeing both Elodie and Carina immediately following the ceremony when they gave me a big hug and said you did it! We really couldn't have done it without Tall and Small Events! Both my mother and I couldn't be happier with the wedding and how they helped us on my big day!
Image: Andrea Fischman Photography
NOREEN + PRITESH
TIED THE KNOT: October 7th, 2016
VENUE: The Foundry, Long Island City, NY
OUR FAVORITE PART: Personalized Multi-Faith Ceremonies with UK Touches
We had an absolutely wonderful experience working with Elodie at Tall & Small Events! We hired her about a month before our October wedding at The Foundry, once we realized that the first planners we spoke with were in above their heads. Our event had two ceremonies and many room flips, with seven parts total to the big long day.
Elodie's positive, can-do attitude about this aggressive timeline was so appreciated and reassuring. She was very well organized and communicative, and did everything she could to get us what we wanted and clearly explained why some of our ideas wouldn't work, which was necessary too.
On the day of the wedding, Elodie and her team were very professional and calm, and it was a pleasure having them around to guide us through the many complex steps of the day!
In summary, if they can handle our wedding, I think they can handle just about anything - I highly recommend you hire Tall & Small Events for wedding planning!
Image: Ein Photography
Check out their story on Catalyst!